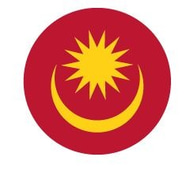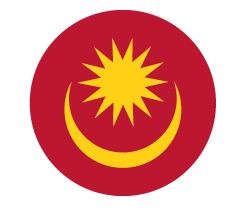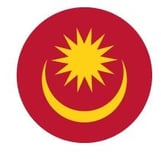 "KEMEJA" is an abbreviation for Kesatuan Melayu Muslim Malaysia Jepun, which is a registered association under the Agency for Registration of Associations and Companies in Japan.
KEMEJA is officially registered as a '一般社団法人' (general incorporated association) that operates neutrally without being influenced by any political party in Malaysia."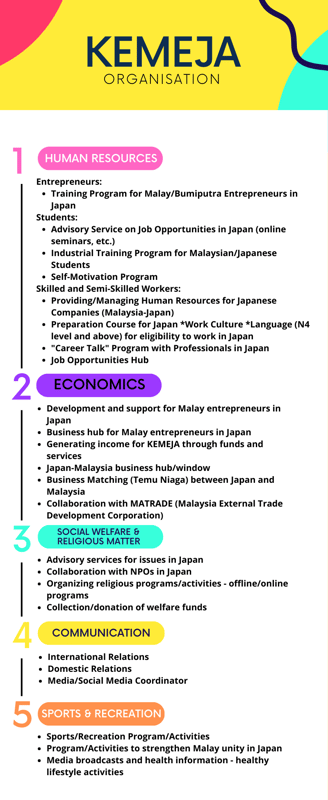 Social Welfare and Religious Related Bureau
KEMEJA provides valuable advisory services to address various issues faced by the community in Japan. We also engage in meaningful collaborations with non-profit organizations (NPOs) in the country, fostering partnerships to support their initiatives. The organization actively organizes religious programs and activities, both offline and online, to promote spiritual and communal growth among its members.
Additionally, we demonstrates our commitment to social welfare by collecting and contributing funds to support welfare projects and initiatives. Through these activities, we strives to create a strong and supportive community for the 3M group in Japan.
Sports and Recreations Bureau
KEMEJA fosters the growth of Malaysian entrepreneurs in the country by providing development and supports. We facilitates a dedicated business hub for Malaysian entrepreneurs and generate income through various funds and services.
Additionally, we plays a crucial role in promoting Japan-Malaysia business interactions through business matching events. Our collaboration with MATRADE further strengthens economic ties between Japan and Malaysia, creating opportunities for mutual growth and cooperation.
KEMEJA offers various entrepreneurial programs and training for Malay and Bumiputra entrepreneurs in Japan. We provide advice and guidance to students about job opportunities in Japan through online seminars and offer industrial training programs for Malaysian and Japanese students.
Additionally, we conducts motivational programs for personal development. We also cater to skilled and semi-skilled professionals by providing human resources support to Japanese companies, preparing individuals for working in Japan through courses on work culture and the Japanese language (N4 level and above).
Furthermore, we organizes "Career Talk" events with professionals in Japan to help members explore job opportunities. Through these efforts, we aims to facilitate employment opportunities and enhance the skills of the community in Japan.
KEMEJA engages in both international and domestic relations, fostering connections and collaborations between various groups and entities. We actively coordinates communication through media and social media platforms to effectively disseminate information and engage with the community.
These efforts contribute to KEMEJA's goal of promoting unity, understanding, and support among the 3M community and beyond.
KEMEJA organizes sports and recreational programs to promote an active lifestyle among the members. We also conducts activities that foster unity and solidarity within the Malaysian community in Japan. Through media broadcasts and health information dissemination, we encourages the members to adopt healthy lifestyle practices.
These initiatives aim to create a strong, healthy, and close-knit 3M community in Japan.
Corporate Name : 一般社団法人日本・マレー協会
Corporate Number : 0111-05-008642
Yoshioka Building 3F, 4-32-1 Yotsuya, Shinjuku-ku, Tokyo, 160-004 Japan
Banking Details
シャ)日本マレー協会
MIZUHO BANK (futsuu account)
四谷支店 (036)
3005365